Post by elendramear on May 7, 2019 21:26:42 GMT -5
Hello! Welcome to half of table N232!

I will hold reservations for people for the first hour of the nominoichi, and will be accepting reservations up until May 22nd. So let me know if you'd like to reserve anything!
I will try my best to reply to everyone as quickly as I can but I do have a very busy schedule so I apologize if it takes me some time to get back to you!

Manga
-Fill in your collections, or start new ones!-
All Manga is 5$ each
(Deals might be offered to those looking to buy a lot)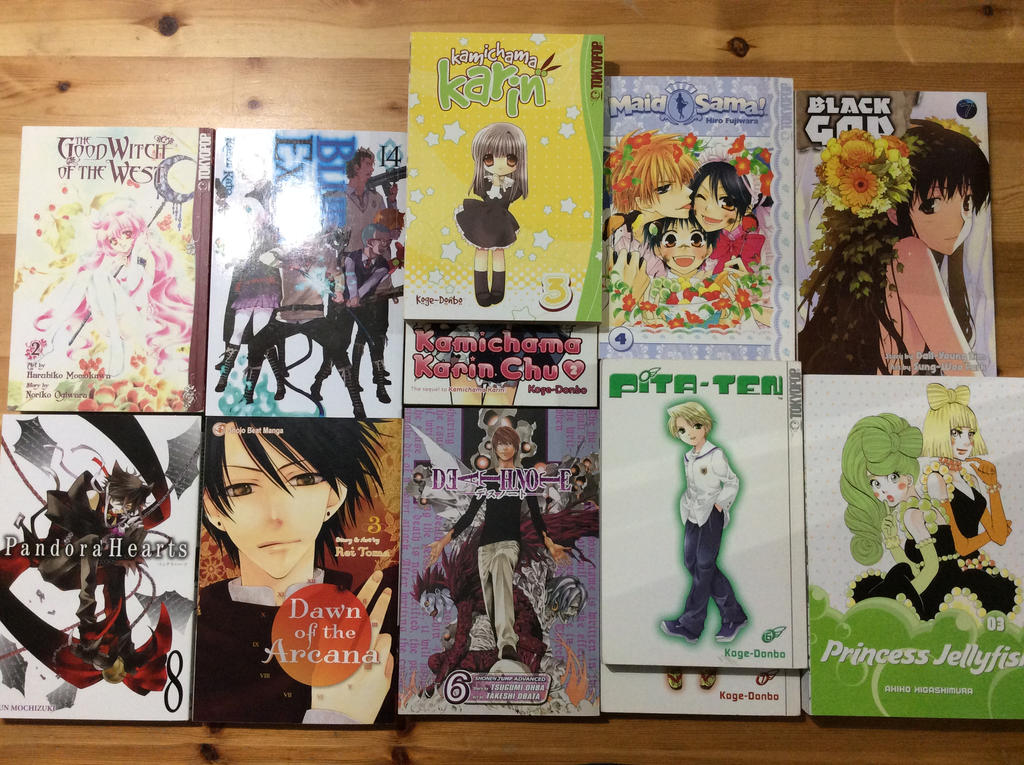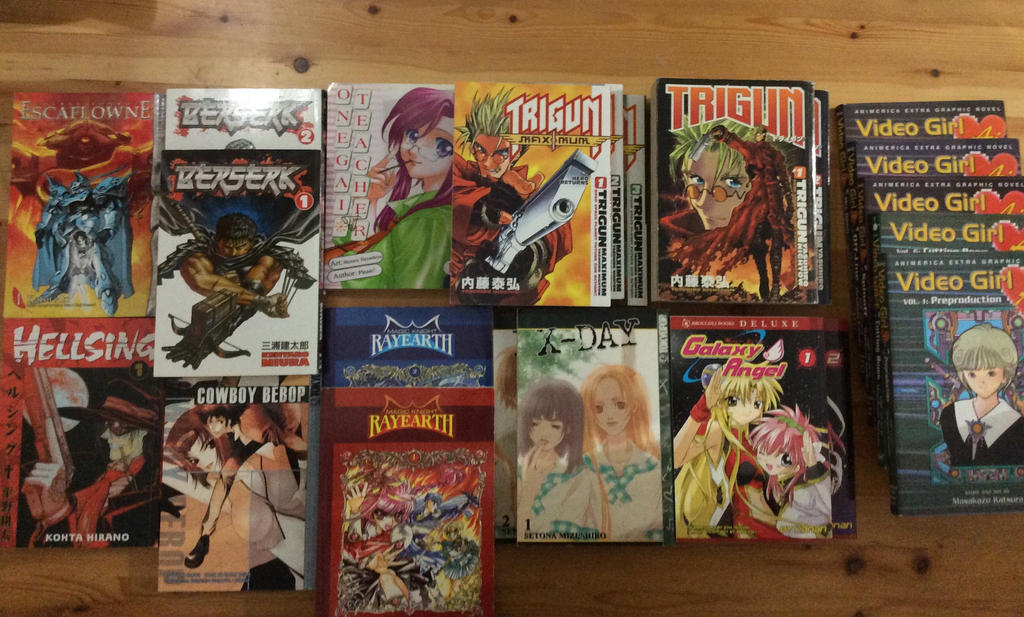 Black God vol. 7
Blue Exorcist vol. 14 *Reserved for AnimeRaven

Berserk vol.1 + vol. 2 (8$ for both) * Reserved for Djinnwolf

Cowboy Bebop vol.2 * Reserved for Winkergirl

Deathnote vol. 6

Dawn of the Arcana vol. 3

Galaxy Angel vol. 1 + vol. 2 (8$ for both)

Hellsing vol. 1

Kamichama Karin vol. 3

Kamichama Karin Chu vol. 2(small tear in front cover only 4$)

Maid Sama! Vol. 4

Magic Knight Rayearth vol. 1 + vol. 2* (these are from the first printing in 1998-1999, and so are "backwards" and slightly bigger

than standard manga)

Onegai Teacher vol. 1

Pandora Hearts vol. 8 *Reserved for Redstars

Princess Jellyfish vol. 3 (ep. 25-ep.34)

Pita-Ten vol. 6 + vol. 7 (8$ for both)

The Good Witch of the West vol. 2

The Vision of Escaflowne vol. 1

Trigun vol. 1 + vol. 2 (8$ for both)

Trigun maximum vol. 1 + vol. 2 + vol. 3 (12$ for all 3)

Video Girl Ai vol. 1 + vol. 2 + vol. 4 + vol. 5 + vol. 6 (20$ for all 5)**note we do not have vol. 3

X-Day vol. 1 + vol. 2 (8$ for both)

Light Novels
All Light novels are 5$ each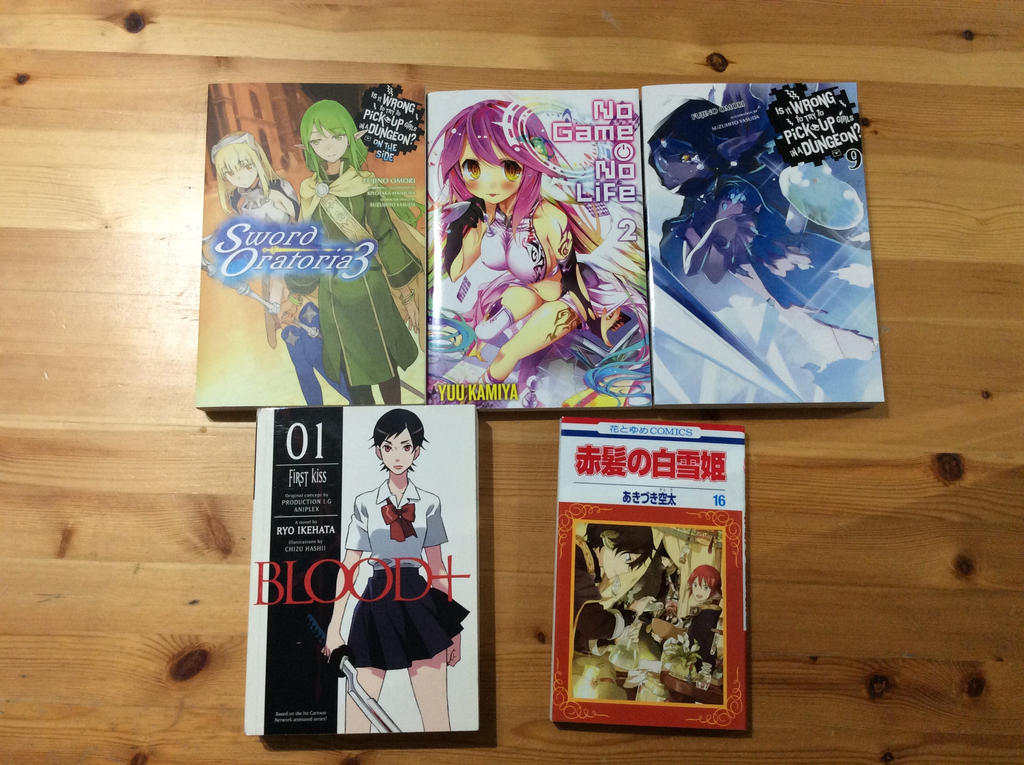 Blood + vol. 1

Is it Wrong to try to Pick Up girls in a Dungeon? Vol. 9
Is it Wrong to try to Pick Up girls in a Dungeon? Sword Oratoria vol. 3
No Game No Life vol. 2 *Reserved for AnimeRaven

Japanese Manga
-Fully in japanese, not available in english yet-

Akagami no Shirayuki Hime vol. 16
2$
Nendoroids
All Nendoroids are in their original Japanese boxes, they all have been opened and displayed, but are in great condition.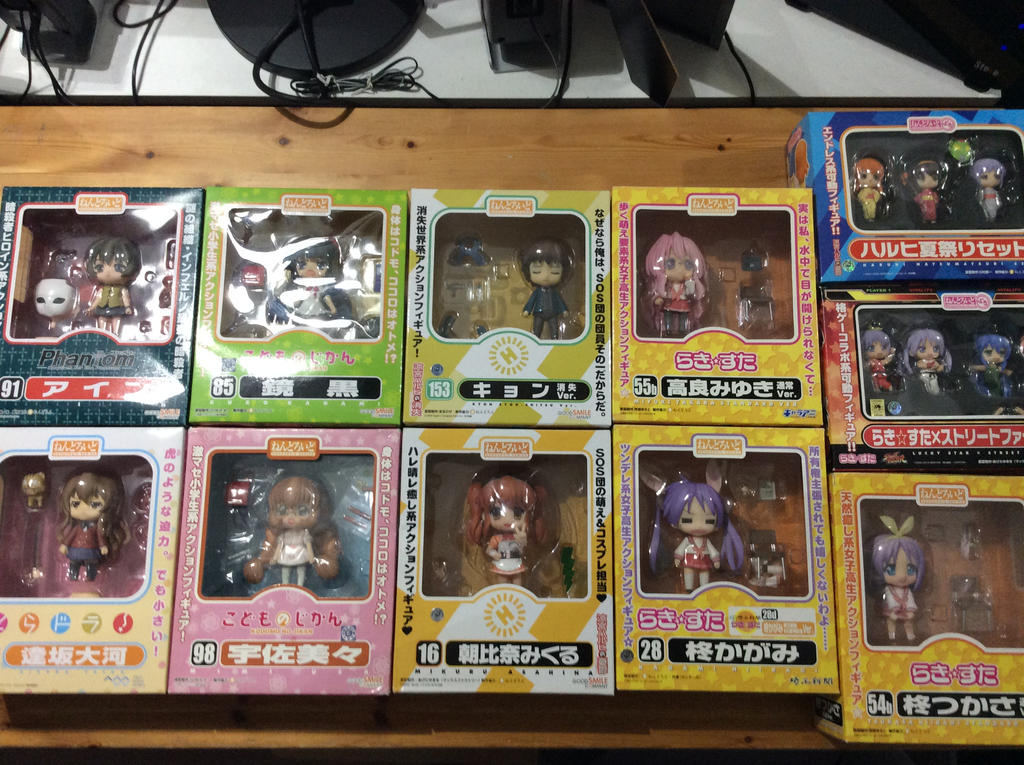 The Melancholy of Haruhi Suzumiya:

[16] Mikuru Asahina 18$
[153] Kyon: Disappearance Ver. 55$

Nendoroid Petite: Haruhi Summer Festival- Missing 1 stand- 18$
Lucky Star:
[28] Kagami Hiiragi 15$
[54b] Tsukasa Hiiragi (normal ver.) * missing 1 arm, and missing stand 10$
[55b] Miyuki Takara (normal ver.) 25$
Nendoroid Petite: Lucky Star x Street Fighter Set *Miyuki's stand is broken 20$
Toradora:
[185a] Taiga Aisaka 80$
Kodomo no jikan:
[85] Kuro Kagami 50$ *Reserved for ajthecollector

[98] Mimi Usa 30$ *Reserved for ajthecollector

Phantom:
[91] Ein 35$
Nendoroid Petite: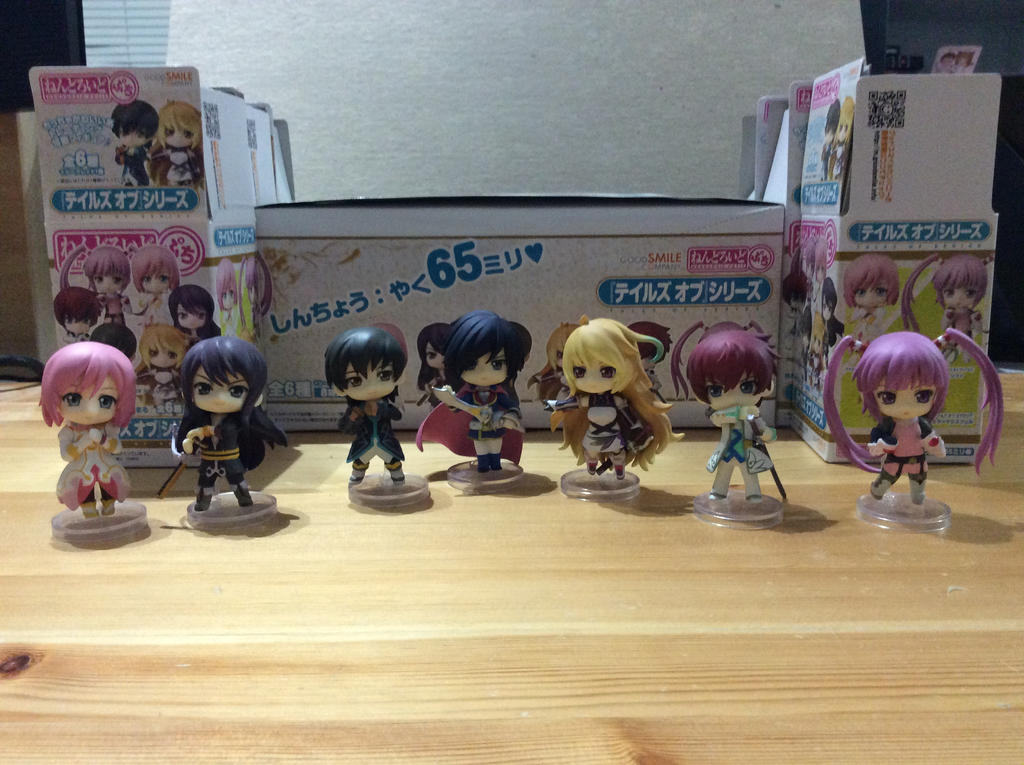 Tales of Series
- 15$ each
-
Jude Mathis
-Milla Maxwell
-Yuri Lowell *Reserved for Xironreaver
-Estelle
-Asbel Lhant
-Sophie * reserved for bibodestined

-Leon Magnus
Pins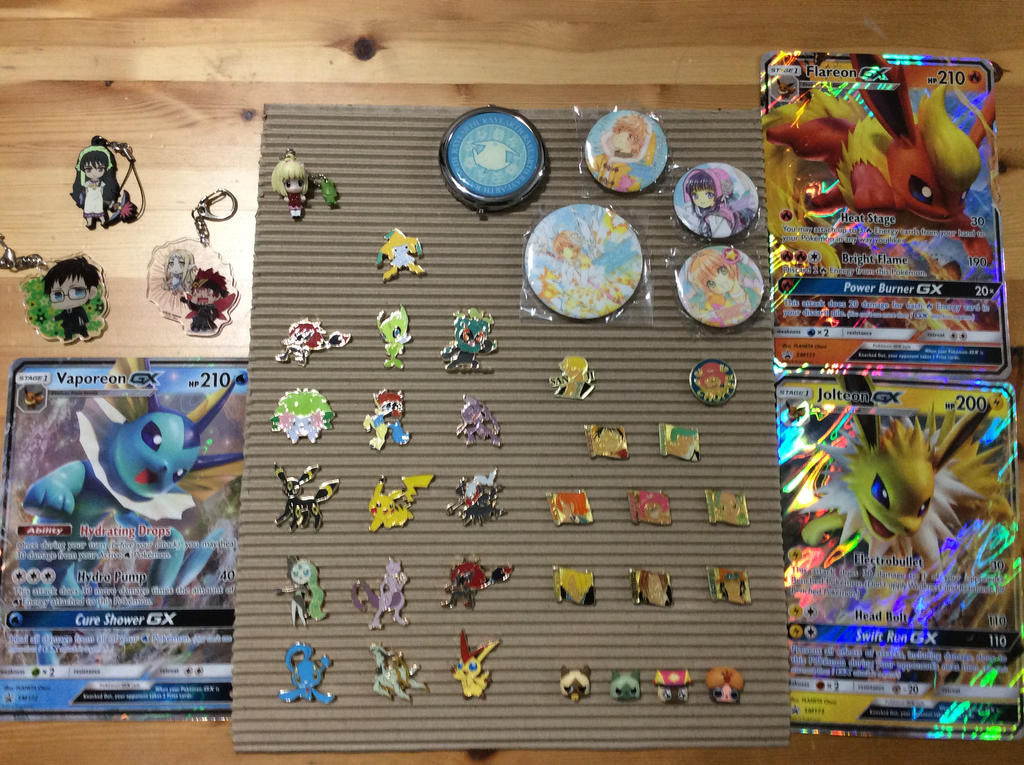 All Enamel Pokemon Pins are 3$ each -If you want to buy multiple, deals can be made!-
-Jirachi and Darkrai are reserved for Soulstealer
-Pikachu is reserved for Roseyglitch
-Umbreon and both Zoroark pins are reserved for TR-AX

Enamel One Piece Pins are 2$ each ONLY Vivi and Ace pins left!

-Both Sanji pins, both chopper pins, the nami, luffy, zoro, and shanks pins are reserved for TR-AX

Card Captor Sakura: Clear Card pins are 1.25$ each for the 3 smaller ones, and 2$ for the bigger one (or 4$ for all of them) * Reserved for xDream3

Monster Hunter Cat Phone Stickers-never used!- 2$ for all 4 *Reserved for pikaboo

Giant Pokemon Cards 1$ each *Reserved for Joyconboyz

Mokona Pocket Mirror 5$

Blue Exorcist keychains: Acrylic Yukio(x2)-2$, 3D Shiemi -5$

SAO keychains: Acrylic Klein-2$
Macross Zero Keychain: Rubber Sara Nome-1$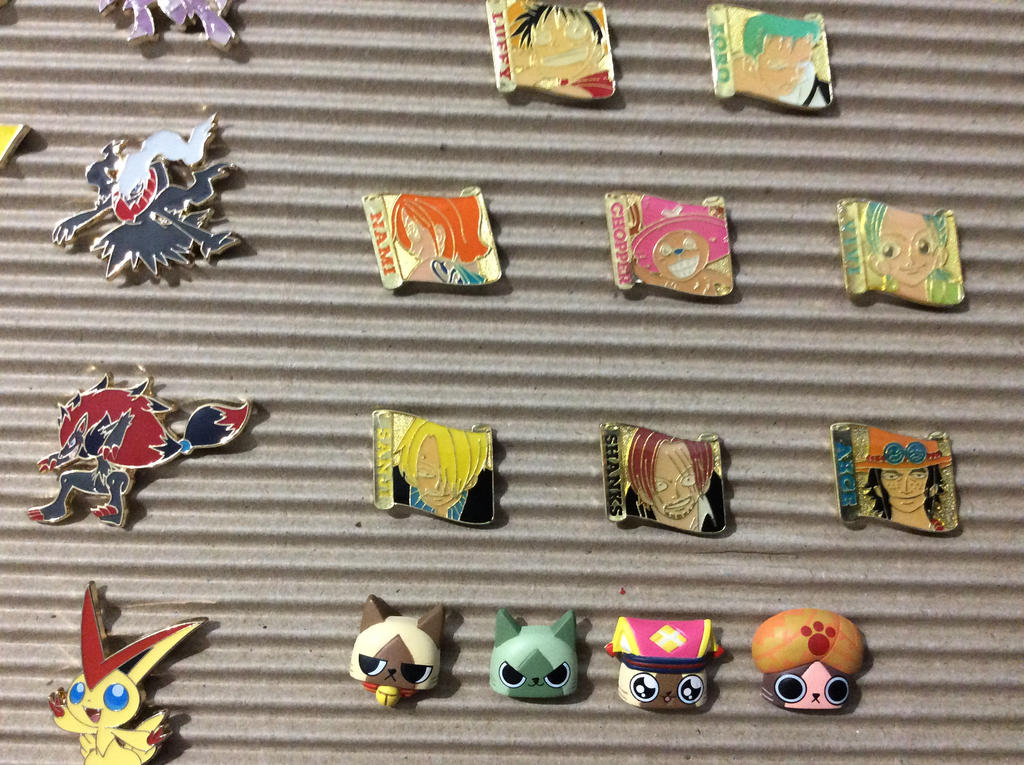 Anime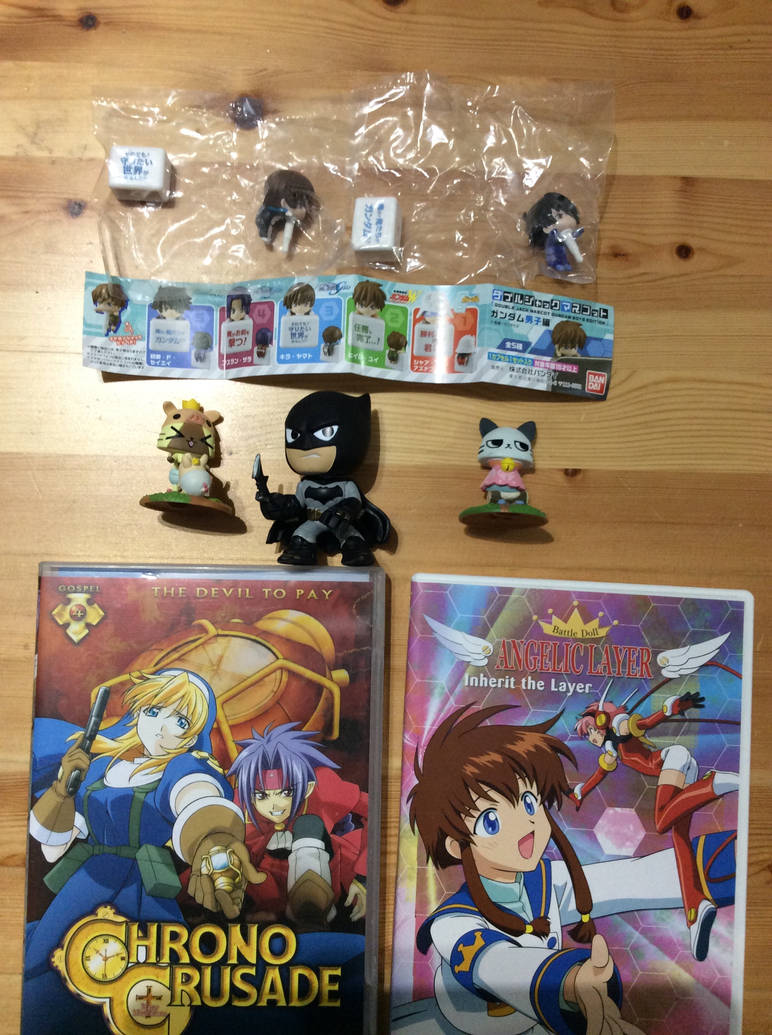 Chrono Crusade DVD (vol. 4) 10$

Angelic Layer DVD (vol.6) 8$

Misc.
Batman Figure 5$
Monster Hunter Kitty Figure(with bell and bench) 8$

-Kitty with Poogie Reserved for pikaboo

Gundam Ear-jack Figures 4$ each (comes with stand with their catchphrase in japanese)

Thanks for stopping by!