Post by Gryvon on Mar 22, 2018 11:49:32 GMT -5
1. If you don't already have an account on
ANPanels.com
, create an account and log in. If you do not remember your password, you can use the Forgot Password link to recover your account information.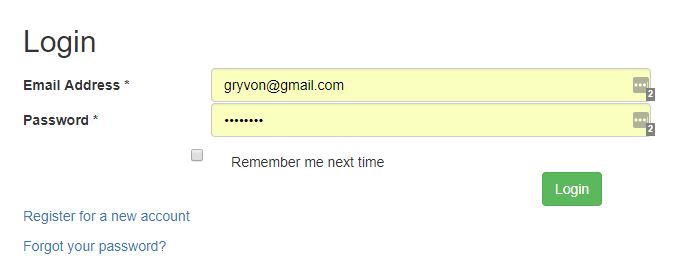 2. Once logged in, click the "Register Panels" link in the navigation. This will take you to the page where you register for panels. (Obviously.)

3a. If you are adding a
NEW
panel, you will need to fill out the full form to create the panel. (Note: Outside of YN, you have to fill in the whole form for every panel registration, new or existing. We're special because I wrote the software and can make exceptions to the standard process.)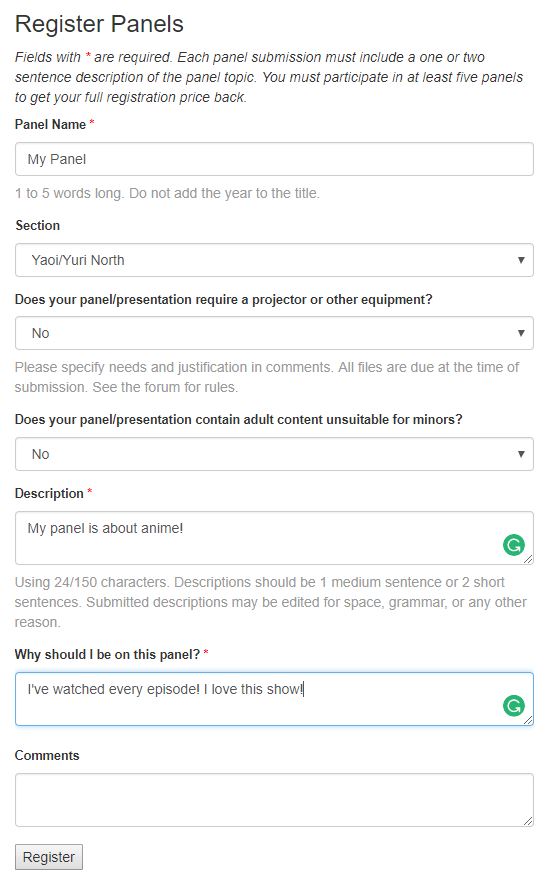 3b. If you are registering for an EXISTING panel in the Yaoi/Yuri North section, scroll to the bottom of the page and click the button under "Yaoi/Yuri North Open Panels."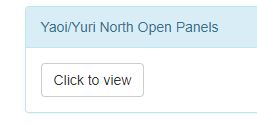 This will open up the list of available panels. New panels will not appear here until they have been set public by an administrator (aka me). You can register for panels that have not yet appeared in the list by filling out the full form (shown above) using the same panel name. The panel name must match to group panelist registrations properly.

Click
"Register"
for the panel(s) you wish to be a panelist on. (Note: You DO NOT have to register to attend a panel. All you need is an Anime North badge.) You will be asked to submit your own description for the panel and a brief justification of why you would like to be on it. "I'm a fan of the anime/manga/whatever" is a valid justification, but if you have other qualifications you can list them here.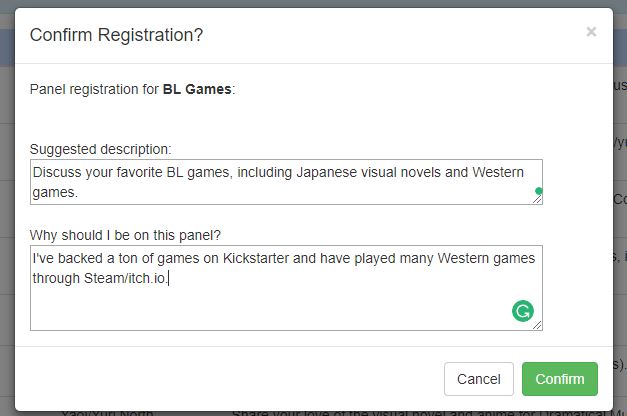 4. Panels you have successfully registered as a panelist for will appear on the
Home
page of ANPanels. The
"Registered Panels"
section shows panels you have applied for but have not yet been confirmed/approved as a panelist. Confirmations tend to happen in April/May.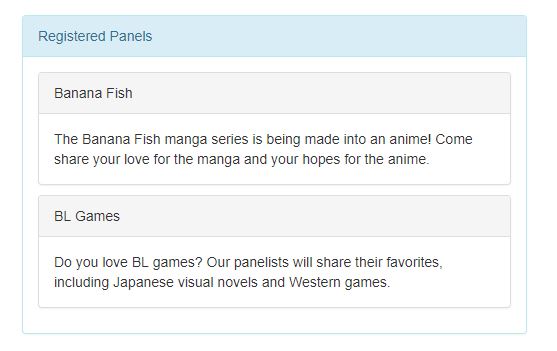 5. Once your participation on a panel has been confirmed, you will see it listed in the
"Confirmed Panels"
section to the left of the Home page. Make sure to check the email your registered your ANPanels account under so you don't miss important correspondence.